Since the start of our business 20 years ago, we have always been providing our customers with high Technology through Advanced Material. We supply customer-dedicated material and components for high performance demanding field of industries like electronics, machinery and automobile in Germany and European region. Solving your difficult problem is our job!

Seit Beginn des Geschäfts vor 20 Jahren haben wir unsere Kunden mit hoher Technologie durch fortgeschrittenen Materialen bedient. Wir liefern kunden-spezifisches Material und Komponenten für Hochleistungs anspruchsvollen Bereich der Branchen wie Elektronik, Maschinen-und Automobil in Deutschland und der Europäischen Region. Die Lösung Ihrer schwieriges Problem ist unsere Aufgabe!
---

Ricocel is the registered trade mark of Risho Kogyo Co., Ltd. Japan and TECAM GmbH Germany for the high temperature resistant solder pallet material developed and manufactured by Risho. Recently there are some Chinese trading companies who offer Chinese made fake Ricocel material. Ricocel is supplied only by official distributors and cannot be supplied by any trading companies from China. Fake material does not fulfill the critical properties of the Ricocel and can cause severe quality problem if used in the high value electronic assembly process.

Vorsicht vor gefälschten Ricocel Material aus China!
Ricocel ist die eingetragene Handelsmarke der Risho Kogyo Co., Ltd. Japan und TECAM GmbH Deutschland für die von Risho entwickelten und hergestellten hochtemperaturbeständigen Lötmasken- und Lötrahmen- Material. Vor kurzem gibt es einige chinesische Exporthändlern, die in China hergestellte Fake Ricocel Material anbieten. Ricocel wird nur durch Vertragshändler ausgeliefert und kann nicht durch Exporthändler aus China geliefert werden. Fake-Material erfüllt nicht die kritischen Eigenschaften des Ricocel und kann schwere Qualitätsprobleme in den hochwertigen elektronischen Montageprozess verursachen.


---

Custom panel delivery in next working day

We deliver our material cut in customer specific panel size within next working day. If your order arrives before 10 AM, your order will be ready for shipping by next day. For more detail and price quotation please contact our sales department.

Zuschnitte Lieferung am nächsten Arbeitstag
Wir liefern unser Material in kundenspezifische Zuschnitte innerhalb nächsten Werktag. Wenn Ihre Bestellung vor 10 Uhr uns eintrifft, wird Ihre Bestellung am nächsten Tag versandfertig. Für weitere Einzelheiten und Preisanfragen wenden Sie sich bitte an unsere Verkaufsabteilung.

---

RICOCEL® Solder Pallet Material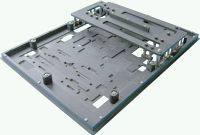 Ricocel is the name of the highly heat durable material which is successfully used by many customers in Europe since we launched it in 2009. We keep always sufficient stock in the center of Germany to serve customers all over europe without any delay in delivery.

RICOCEL® Lötrahmen Material
Ricocel ist der Name des hochhitzebeständigen Material, das wir seit 2009 vertreiben und erfolgreich von vielen Kunden in Europa verwendet wird. Wir halten immer ausreichende Lagerbestände in der Mitte von Deutschland und liefern an Kunden in ganzen Europa ohne Lieferverzögerung.
---

Black epoxy glass laminate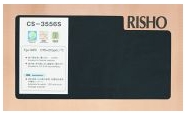 We present newly developed CS-3667B, the black color epoxy glass laminate.
Also available in bright normal color, this material is further developement of CS-3556 with higher Tg value of 215°C DMA.

Schwarze Epoxid-Glas Laminate
Wir präsentieren neu entwickelte CS-3667B, die schwarze Farbe Epoxy-Glas-Laminat. Auch erhältlich in hellen normale Farbe, ist dieses Material weitere Entwicklung des CS-3556 mit höheren Tg-Wert von 215 ° C DMA.
---

White epoxy glass laminate for LED industry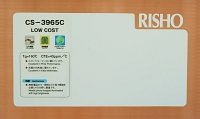 For the excellent whiteness of the substrate for the LED chip, we propose a newly developed CS-3965 series white laminate from Risho. This material is completely white also inside of the laminate. After milling and building LED chips, it is not needed to cover with white color mask additionally. Furthermore the whiteness of the substrate lasts much longer than the white mask without degrading.
Weiße Epoxid-Glas Laminate
Für die hervorragende Weißgrad des Substrats für die LED-Chips, bieten wir eine neu entwickelte CS-3965 Serie weißem Laminat aus Risho. Dieses Material ist vollständig weiß auch innerhalb des Laminats. Nach dem Fräsen und Einbau des LED-Chips, ist es nicht notwendig, mit weißem Lack zusätzlich zu lackieren. Außerdem die Weiße des Substrats dauert viel länger als der weiße Lack ohne Degradierung.